Directions to the Hillclimb
The Rotary Teton Hillclimb is located at Grand Targhee Ski and Summer Resort in Alta, Wyoming. This wonderful, scenic corner of the world occupies the west slope of the Teton Mountain Range in western Wyoming and is so rugged that it can only be accessed by road from the Idaho side. Alta, Wyoming is reached via Driggs, Idaho by traveling on either Highway 33 from Rexburg, Idaho or Highway 31 from Swan Valley, Idaho. Grand Targhee is approximately a 1 hour 30 minute drive from Idaho Falls, Idaho. The more scenic route goes from Idaho Falls on Highway 26 to Swan Valley, turns onto Highway 31 over Pine Creek Pass to Victor, Idaho, turns north on Highway 33 to Driggs, and then turn off to Grand Targhee. If you are pulling a loaded car trailer, it is easier to go from Idaho Falls on Highway 20 north past Rexburg, turn east on Highway 33 through Tetonia to Driggs, then turn off to Grand Targhee.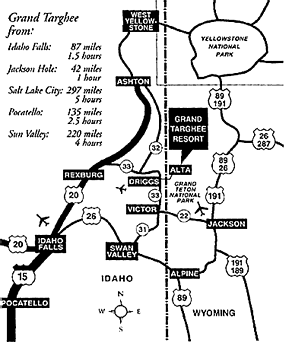 Directions to Warbirds Cafe
(Friday Night Registration & Tech Inspection)
The Warbirds Cafe is located at the Driggs Airport, just north of Driggs, on the east side of Highway 33. After turning off Highway 33, the airport access road forks, stay to the right and you will enter a parking lot with Warbirds Cafe on your right. See map below.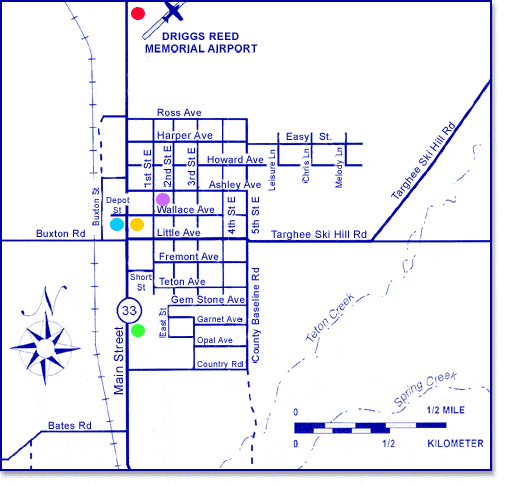 Hillclimb Course Map
The following is a copy of an arial photo of the top portion of the access road to Grand Targhee. The race course is marked from START to FINISH with corner number signs and braking marker signs. Note that NOT ALL corners shown on the map are severe enough to warrant braking markers. However, all corners will have a corner number sign corresponding to the ones shown on the map. Also note that this map was generated prior to the road being re-routed and re-paved at the very top of the hill. The left hand corner and following hairpin corner after the FINISH are NO LONGER part of the road. The road has been re-routed, bypassing the hairpin corner and heading more straight downhill into the Grand Targhee parking lot.
PLEASE, PLEASE, PLEASE get on the brakes and slow down after the FINISH LINE (which is clearly marked). ANY race car drivers coming into the pit/pregrid area AT SPEED will get a stern lecture and may lose their runs for the day! The pit/pregrid area is occupied by racers/crew members/family/children/spectators and Grand Targhee Resort guests who may not be aware of the hillclimb race going on. Safety is MOST IMPORTANT. PLEASE keep vehicle speeds to 10 MPH and less in the parking lot areas at ALL TIMES!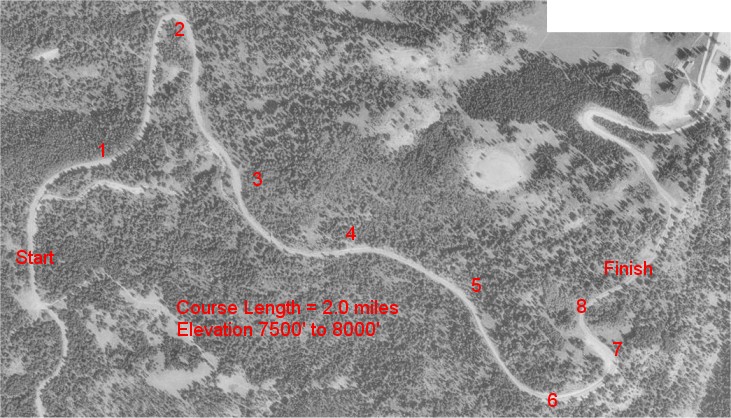 Hillclimb Course video
Click on the following link to view an in-car video of the hillclimb course.


******* CRASH !!!! WHAT HAPPENED HERE ???? MUST STILL BE UNDER CONSTRUCTION ????